About Hawkins Taxidermy, LLC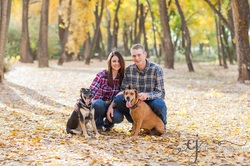 Troy and Keira Hawkins
Located in the small Colorado town of Palisade just below Mt. Garfield, Hawkins Taxidermy LLC proudly serves Grand Junction and the surrounding areas. We are a full service taxidermy shop and we strive to provide you with a worry free experience. We take care of everything from caping the head to shipping and everything in between.

Here at Hawkins Taxidermy, we strive to provide our customers with the highest quality mount while maintaining affordable prices. With over five years' professional experience in North American Wildlife, Exotics, and African Game, we have the knowledge and skills to provide you with a beautifully finished mount that you will be proud of.

Troy Hawkins, owner and taxidermist, is passionate about hunting and maintains a strong connection with the outdoors. Born and raised in the Grand Junction area, he has studied the art from around the country to improve his own skills and provide a quality, affordable product. The skillful preservation of wildlife is his goal and he actively seeks opportunities to increase his knowledge and improve his abilities as a taxidermist.

Customer satisfaction is our passion and we truly appreciate the confidence that our customers place in us. Thank you for trusting Hawkins Taxidermy with your trophy!

Call us today at (970) 433-3677 or E-mail hawkinstaxidermy@gmail.com and see what we can do for you!

---